How to vaginal steam at home is simple and you can do it with none to very little extras.
If you do not have a stool, that's okay you can kneel over the pot.
If you do not have the herbs, that's okay you can steam with water alone! Yes!
If you want to get a stool and organic herbs check out the self-care shop for all your vsteam needs. I am trying to make this easy and accessible for everyone to enjoy.
Items for DIY vsteam
Vaginal Steaming Herbs or just water
Vaginal Steam stool or cushions
Spare saucepan with lid (your yoni pot)
Big sheet, Blanket or Cloak
Common sense (I know you have this in abundance)
Directions to vaginal steam at home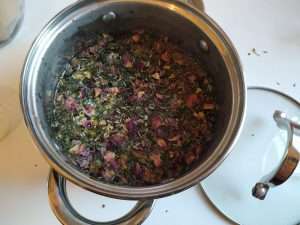 Find a place of peace and quiet in your home 
Prepare herbs following packet instructions or boil your water in the saucepan.
Place saucepan beneath a vaginal steam stool (protect flooring from heat of pan)
Test temperature of steam on your wrist / hand
Sit on the steam stool or kneel over the saucepan and wrap a sheet around you for 10 – 30 minutes
If you are going to kneel it's more comfortable to put your knees on cushions and then lean forward to rest
Whilst steaming you can use this time to journal, read a book or surf the net!
That's how to vaginal steam at home, it really is simple. I do recommend the stool for convenience and more comfort. If you have a stool all you need to do is boil your water and herbs.
The herbs offer a more tailored and effective steam than water alone, with water you will get some benefits and the desire to continue the self-love with herbs.
Herbs available are for specific needs, to find the one that suits you, read the description and find the one that beat matches your current menstural cycle /symptoms.
Book Vsteam consultation
You can get a vsteam consultation by sending me an email or by checking out the steamychick directory.